Stony Man Trail
Stony Man Trail
Shenandoah National Park
Type:
Dayhike Loop with Lollipop
Distance:
3.4 miles (5.5 km)
Cumulative Elevation Gain/Loss:
849 feet (259 m)
Date Visited:
March 17, 2019
Stony Man Trail Map (KTNP)
We don't usually hike in the winter. It's cold (obviously), and daylight is lacking. Ice and downed trees often close off Skyline Drive, so you can't access most of Shenandoah National Park. We had been trying to hike for weeks in Shenandoah, but the central district had been closed.
I'm not a fan of winter and was eager to put it behind me. Finally, with some warmer weekend weather, we found ourselves hiking Stony Man Trail. It was getting warmer out, so I insisted it was actually spring, but Kristin argued that it was still winter.
This easy 3.4 mile loop features multiple viewpoints, and makes for a great winter hike when daylight hours are limited. In fact, we hiked Stony Man the previous winter too.
To Skyland
Entering Skyline Drive through the Thorton Gap entrance, we headed south to Stony Man overlook at mile 38.5. The mountain gets its name from a rocky outcropping at the summit that supposedly looks like a man's face. Since it was winter, we had a decent view of the rock formation. Then we headed further south to mile marker 41 (almost 42) for the trailhead.
Stony Man trailhead is located within the Skyland area. There's a decent sized parking lot, especially compared to other trailheads, immediately after entering Skyland. Near the trailhead is an interpretive trail guide that can be purchased for $1 – we didn't get it this time, but have previously. The guide isn't essential, but explains some landmarks along the way. Numbered posts along the route match up with the guide.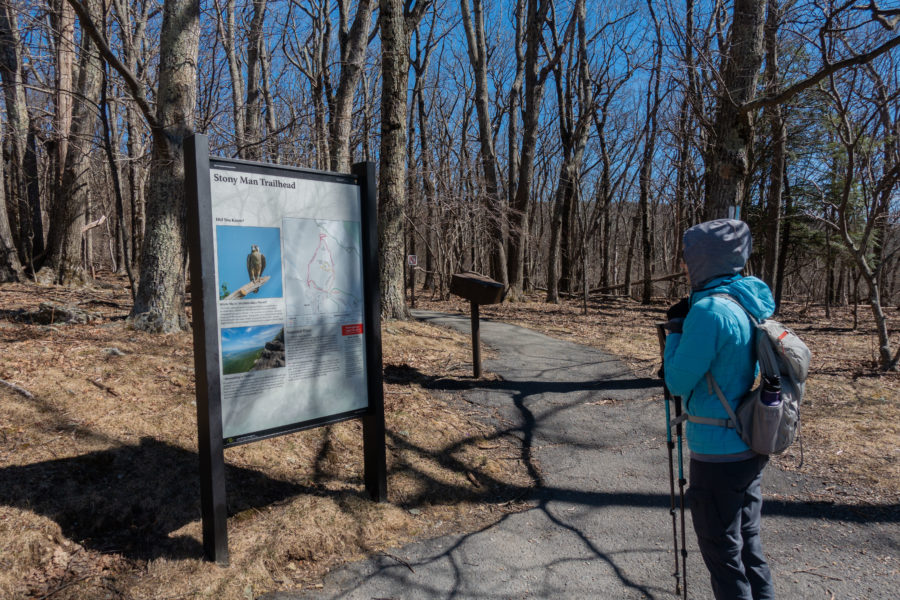 Stony Man Trail
Our hike started on the Appalachian Trail, which is blazed white and blue. The trail starts off pretty easy, and we quickly saw evidence of a fire from 2017. Compared to last year though, the signs are quickly disappearing. We hiked 0.4 miles and came to a 4-way intersection, where Stony Man Trail is straight ahead and Stony Man Trail Connector is to the left. The AT continues right, but we went straight onto Stony Man Trail. We would do a short loop to Stony Man summit, then return to the AT.
At the intersection is a sign saying "No Pets," but as we passed the sign we saw an off-leash dog. Shenandoah is a relatively dog-friendly park, but certain trails are not. Stony Man Trail splits after 420 feet, forming the loop. If you're following the guide, the numbers increase if you go counter-clockwise. We opted for clockwise, for no particular reason.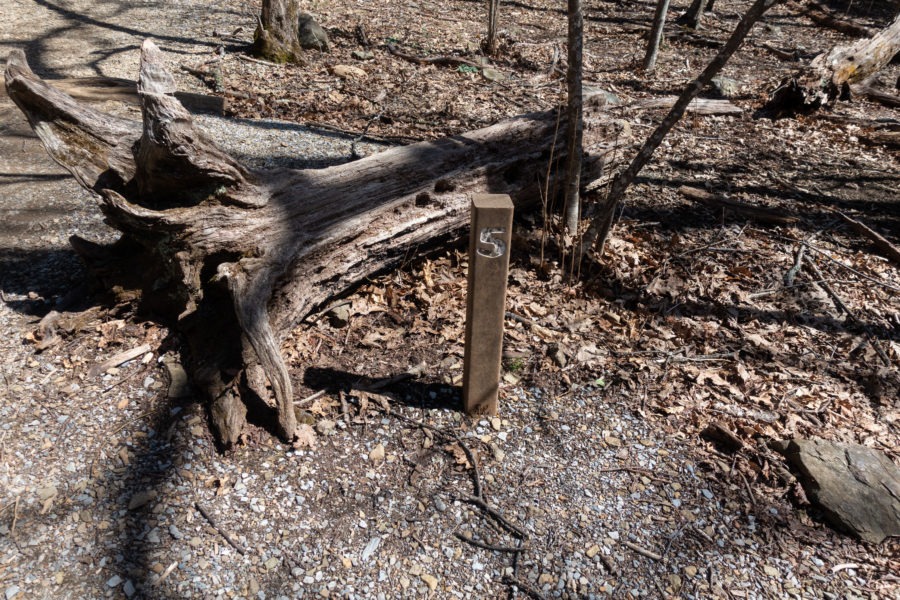 There's some elevation gain, but it's nothing strenuous. We passed some boulders on our right, and took a short spur trail that leads to the summit after 0.4 miles. You'll notice a hitching rail near the intersection. Horseback riders can summit the mountain using the adjacent Stony Man Horse Trail.
Shortly after passing underneath some gnarled trees, the summit trail deposited us onto a rocky viewpoint. Today was a breezy clear day, so we had views to the northwest. Below us, we could see Skyland Resort, and the overlook where we stopped along Skyline Drive. The summit wasn't crowded; we snapped some photos, then headed back to the intersection.
We continued on to complete Stony Man Trail loop. The green moss, pines, and ferns really popped against the grays and browns of winter. Salamander research stations are scattered around the area on poles. We saw similar ones on Hawksbill Trail.
Once we completed Stony Man Trail loop, we turned left onto the Appalachian Trail as it descends. After about 15 minutes, we reached Little Stony Man viewpoint. It offers panoramic views, though Stony Man has better scenery. We enjoyed exploring the cliffs and taking some pictures.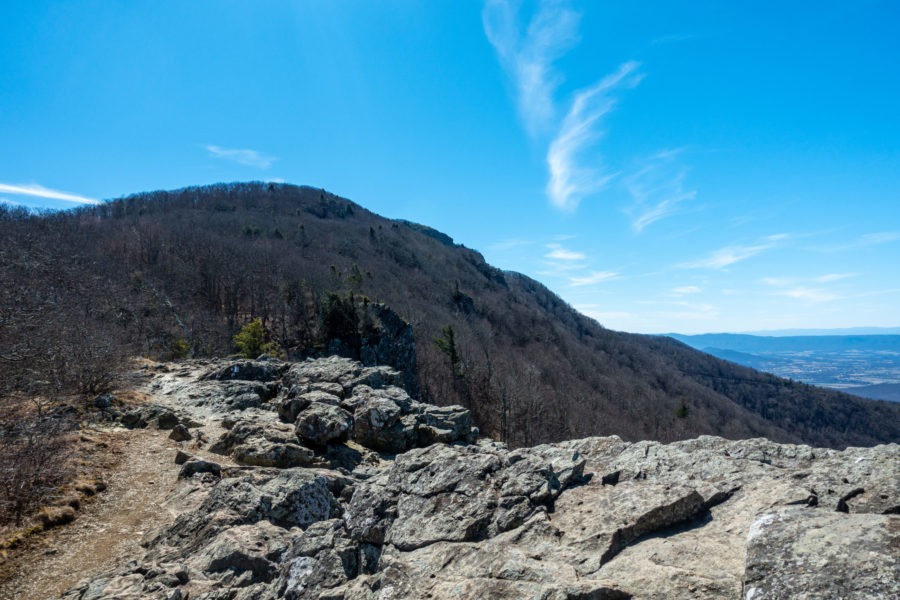 Passamaquoddy Trail
After Little Stony Man, we came to a three-way intersection. We left the AT behind as we turned left onto Passamaquoddy Trail. George Pollock, the proprietor of Skyland Resort, named the trail when it was built in 1932. According to Henry Heatwoles, author of Guide to Shenandoah National Park and Skyline Drive, Pollock named it Passamaquoddy Trail because, he said, Passamaquoddy is a Maine Indian word meaning "abounding in pollock" (an abundant salt water fish on the Maine coast). So, a roundabout way of naming it after himself.
Passamaquoddy Trail is mostly level, though it ascends and descends gently. There's a viewpoint about five minutes down the trail, which we think is worth seeing. Another hiker warned us that further on there were some icy spots. We thanked him and continued, reaching a slightly muddy icy area soon after. Gingerly stepping around the ice, we pressed on.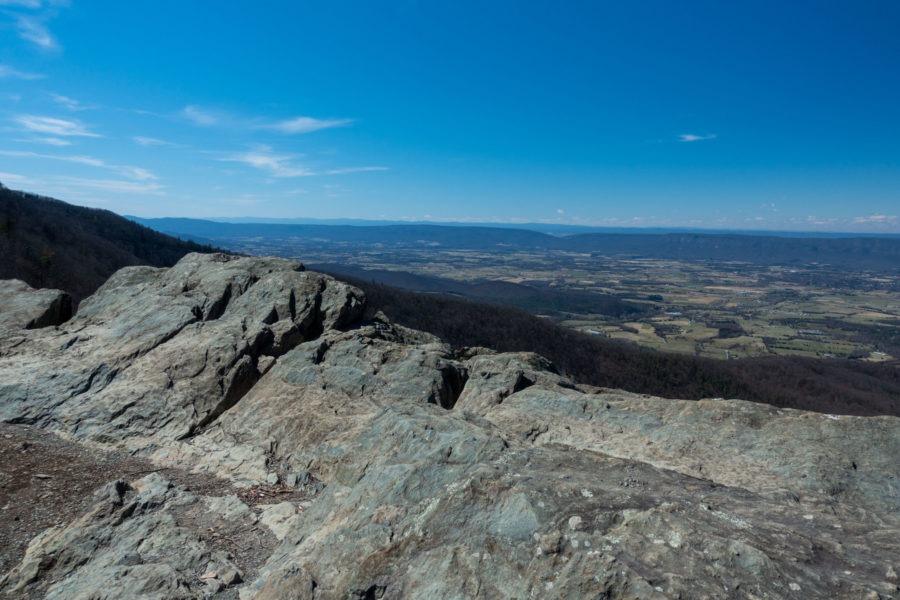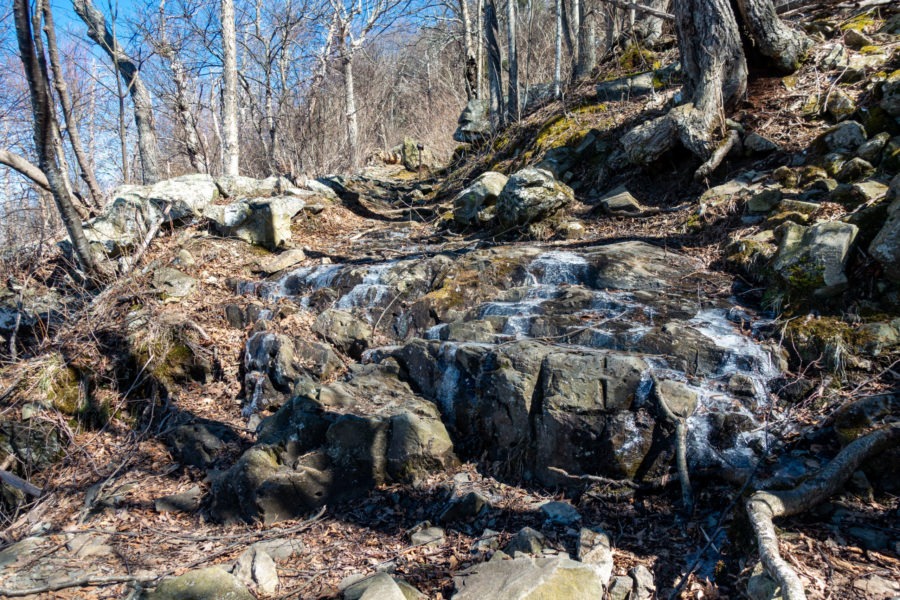 We came to some cliffs on the left that are often used for rock climbing. No one was climbing at the time, and there were signs indicating where climbers should avoid in order to protect the area. Further on, some boulder fields ran across the trail.
The next icy area was significantly different. Dripping icicles emerged from a rocky outcropping above us. Water on the ground had refrozen to form bubble-like ice formations, which I approached to take photos. In doing so, I slipped on the ice, my camera went flying and I whacked my knee on a rock…ouch. Thankfully my camera was okay, but my pride and knee suffered a bit. I had been arguing with Kristin that it was actually spring, but slipping on the ice made me realize winter wasn't over yet.
At the end of the Passamaquoddy Trail is what I would describe as a hobbit house. It's a building that has been set back in a mound. If you get close to the door and listen, you can hear running water behind it. This is Furnace Spring, which formerly supplied water to a copper smelter. These days, it's the water supply for Skyland Resort. Some of the water flows under the trail and out the other side through a pipe.
Furnace Spring Horse Trail
Immediately after the spring, we turned left onto Furnace Spring Horse Trail. To the right is Skyland Fire Road, so the start of the Furnace Spring Horse Trail is gravelly and looks less like a trail. The trail loops to the north and behind the Furnace Spring building before heading south.
This section of the hike is the most strenuous. Furnace Spring Trail gains about 250 feet of elevation as it returns to the parking lot. Half a mile later, we reached an intersection with Stony Man Horse Trail. As we briefly turned left onto Stony Man Horse Trail, we could already see the parking lot where we began.
Stony Man is an enjoyable trail, which was a relief since some hikes we've been on lately have been kinda blah. Varied terrain and elevation with rocky outcroppings, mountains, and views enhance the experience. And despite the ice, it's nice in winter. Regardless of the season, go on a clear day so you can appreciate the mountain views.
Stony Man Trail
Dates: March 17, 2019
Type: Out and Back Dayhike
Total Distance: 3.4 miles (5.5 km) round trip
Cumulative Elevation Gain/Loss: 849 feet (259 m)
Time: 2.5 hours, including photo breaks
Trail Markings: Colored blazes and signs at intersections
Difficulty: Easy
Crowds: Minimal, mostly at Stony Many Summit
Water: Furnace Spring
Highlights: Scenic views, history, spring, cliffs
Directions to Trailhead: Google Maps Directions
Trail Directions
Places
Maps
Links
Elevation Graph
Interactive Map